Spring is when the deciduous trees start to emerge from winter dormancy. Spring is also peak flowering time and it is great to have some flowering species in a bonsai collection to add variety at this time of year.
Flowering species suitable for bonsai include:
Crab apple. There are many different species and varieties of crab apple. many have been selected for the great flowering, others have been bred for the lovely little apples the develop. This is my oldest crab apple.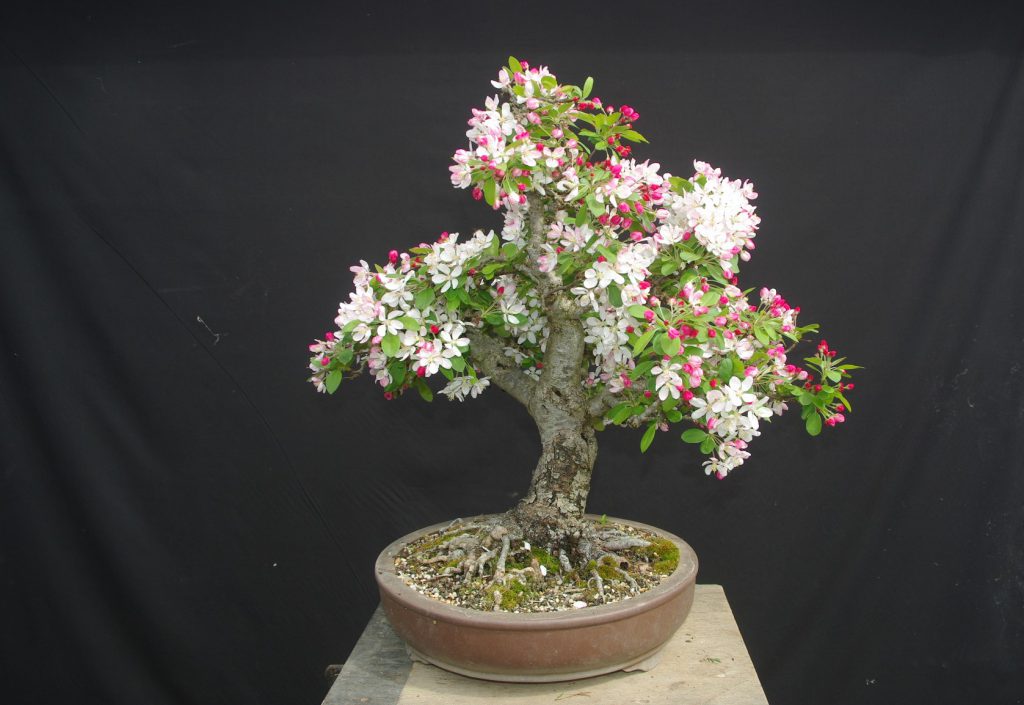 I believe it is a variety from the floribunda group of ornamental crab apples. The pink buds contrast well with the white flowers which are followed by tiny yellow apples about 5mm diameter so they really fit in well with a miniature tree.
There are many other crab apple varieties that you can grow for bonsai. Shibui bonsai can supply smallish starters of the same variety pictured above or a variety called 'profusion' which has reddish leaves and pink flowers followed by deep red apples.
Azalea: Azaleas have a reputation as being temperamental but when conditions suit them they grow very well and adapt really well to bonsai culture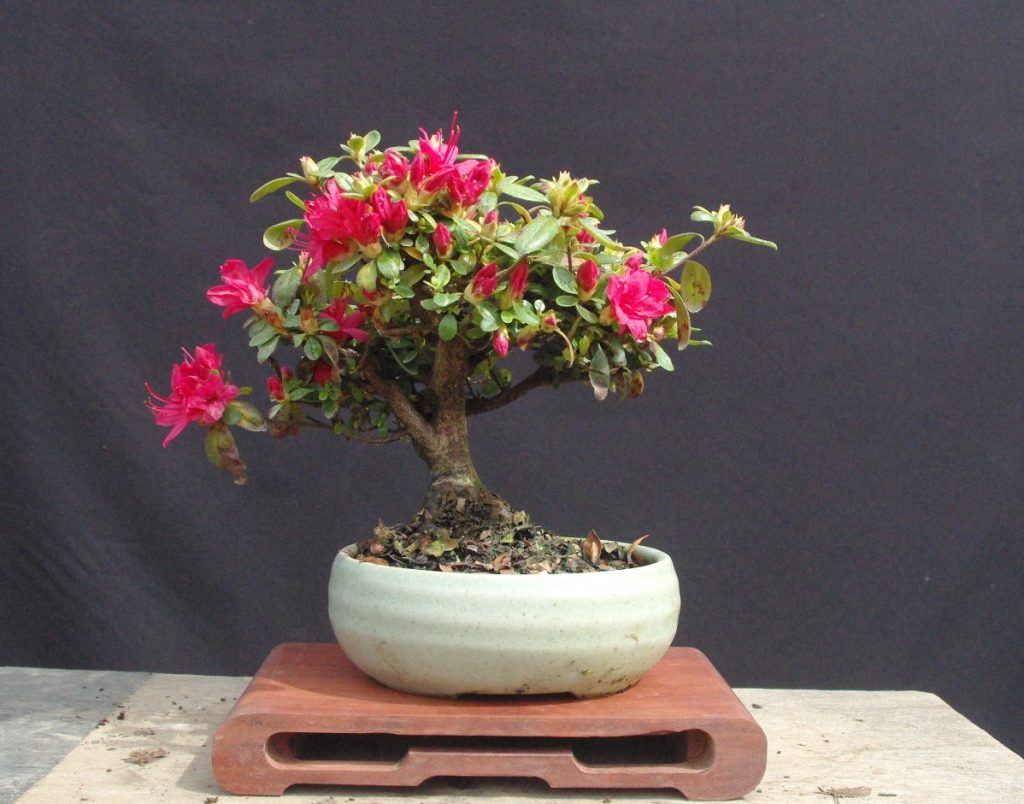 Varieties like the Kurume group with smaller flowers help to give a better scale to bonsai but even the larger flowered types look magnificent when they are covered in flowers, even if the trunk and branch structure is not yet fully formed.
This azalea bonsai was rescued from a garden earmarked for renovation.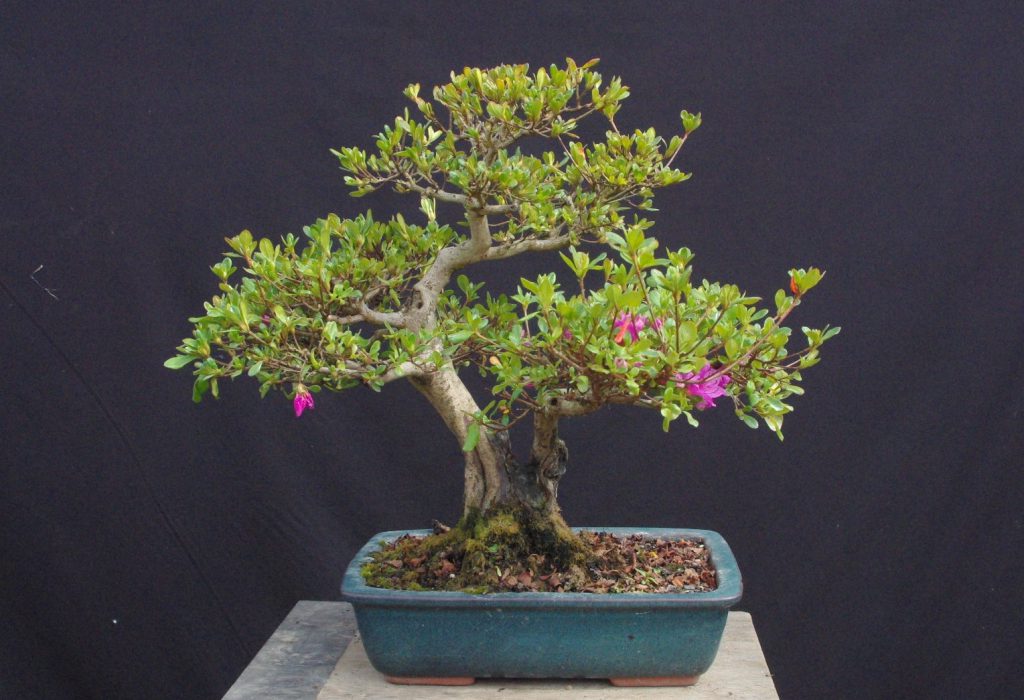 Flowering is a bit sparse after a massive effort last spring. More TLC this summer should see another great display next year.
I have a number of starter sized azaleas ready now. Some smaller flowered types like those pictured above, larger flowered 'Indica' types and a couple of the much sought after Japanese 'Satsuki' azaleas that flower later in spring.
Prunus is a large genus with a great many different flowering and fruiting trees including plums, apricots and the much loved cherries.
Prunus 'Elvins' is an ornamental plum variety that produces masses of flowers each spring and also has the plum hardiness and quick growth. We currently have Prunus 'Elvins' in a range of sizes.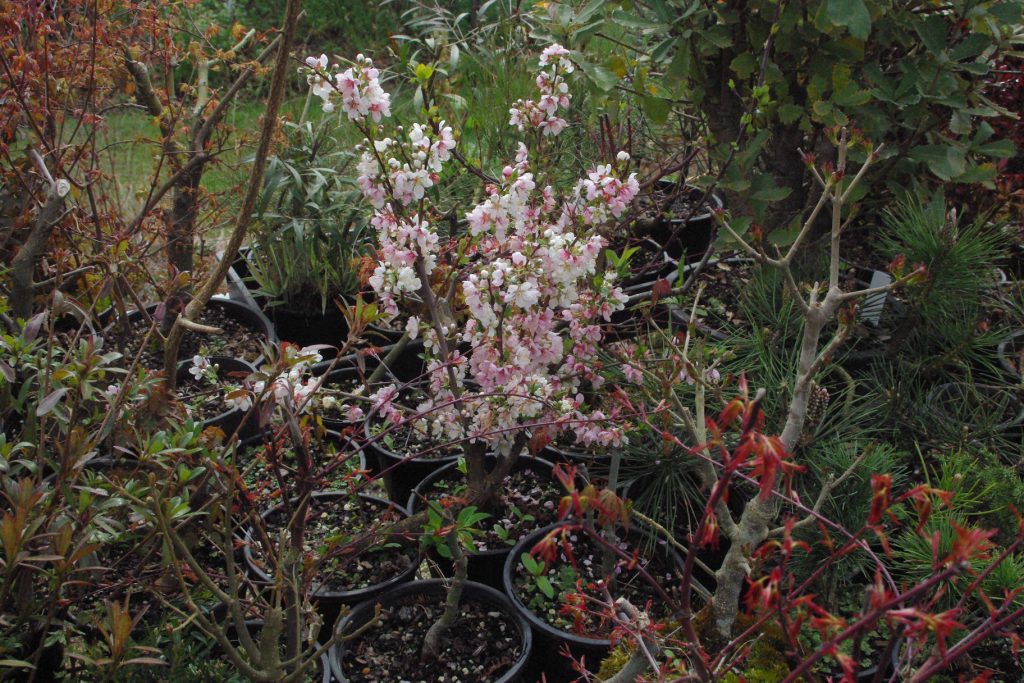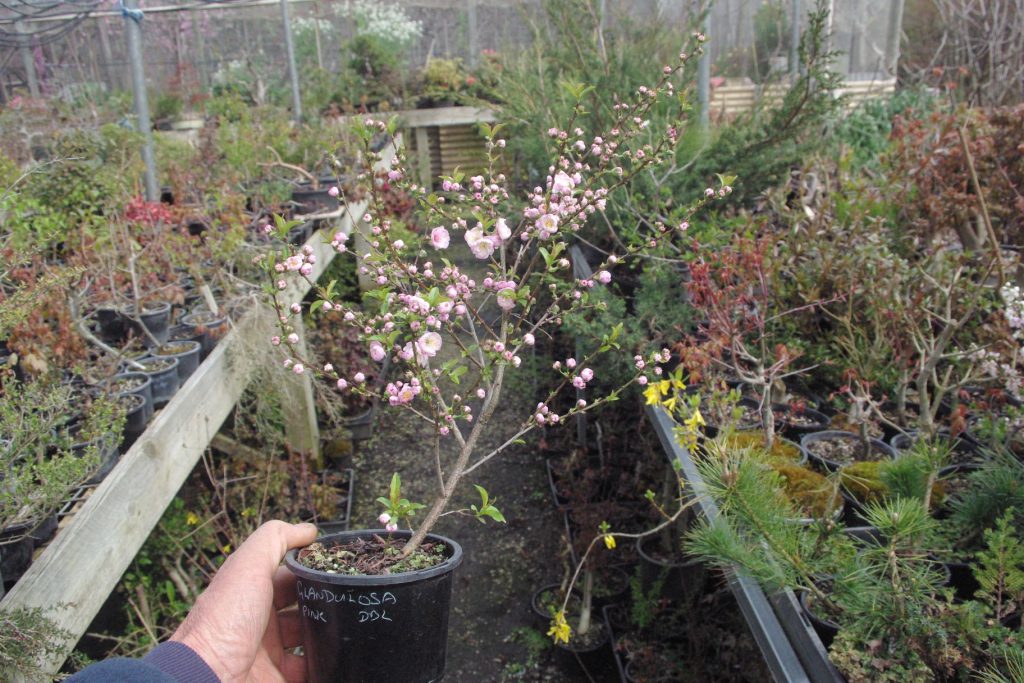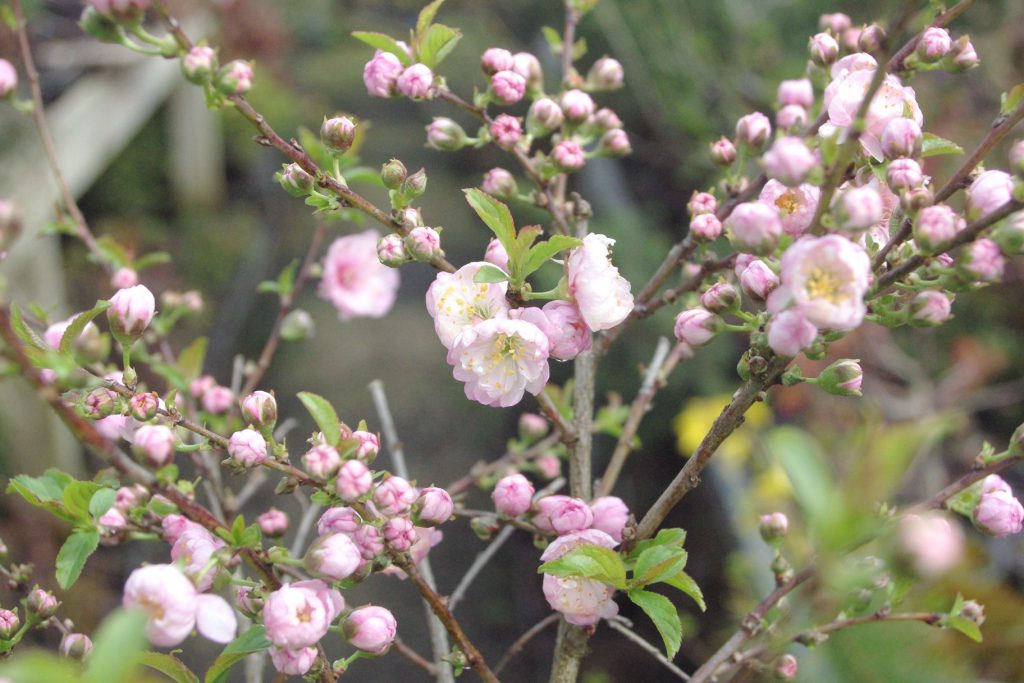 Prunus glanduligera is sometimes known as dwarf Russian almond. It normally grows as a small multi stemmed shrub. The lovely small flowers emerge before any leaves and can be white or pink according to the variety. These are slow growing so it will take time to develop an impressive trunk but still a great variety to grow as a flowering bonsai.
Japanese flowering quince or Chaenomeles is another plant that grows naturally as a clump of stems. Flowers appear from mid winter so provide color at a time when not much else is happening. This one is a double red flower variety but Chaenomeles also come in white and various shades of pink. There's also the much dwarf chaenomeles called 'Chojubai' which flowers sporadically all year round. Chojubai is much sought after as a flowering bonsai species but Shibui Bonsai can supply orange flower Chojubai as smaller starter cuttings.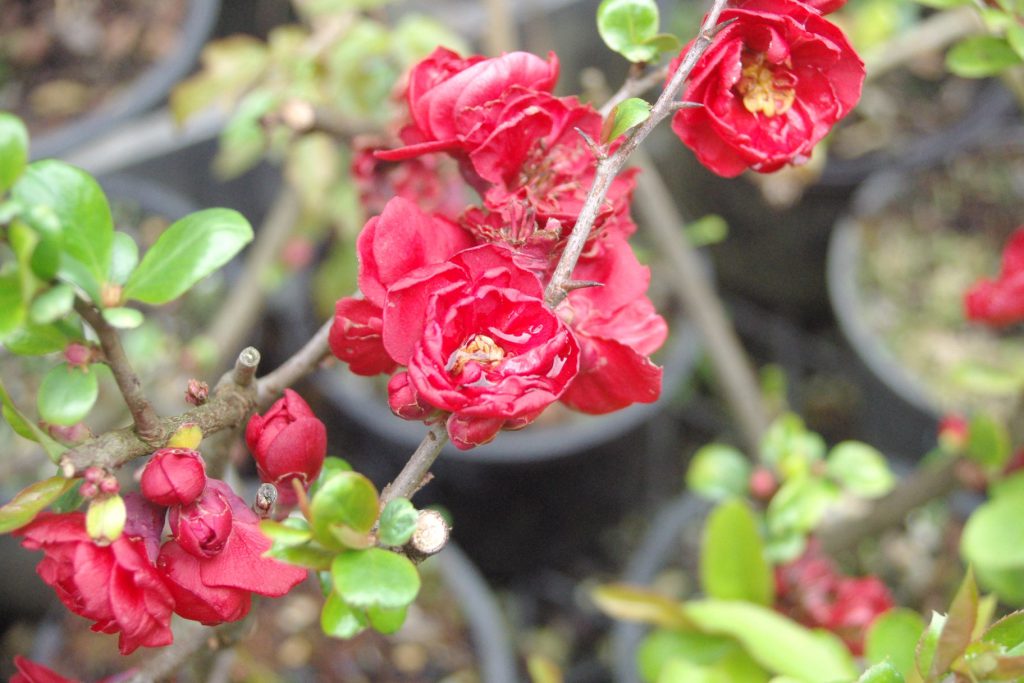 There are many more flowering species that can make great bonsai and I have not even started listing any flowering natives – that might be a future post.
Final picture for today is forsythia. Not often seen as bonsai because it is a bit difficult to build and maintain a real trunk but the bright yellow flowers make a statement from late winter on bare stems.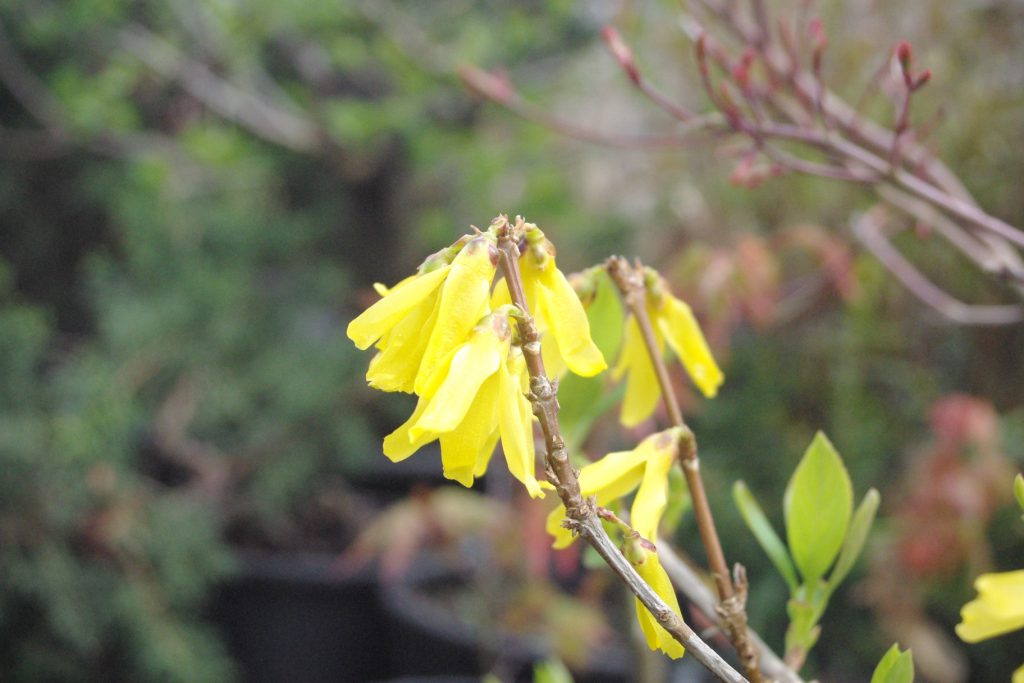 For more information on flowering bonsai or to enquire about what's available please email neil@shibuibonsai.com.au