Shibui Bonsai, a small nursery based at Yackandandah in North East Victoria, grows and develops a range of species to provide high quality pre bonsai and starter trees. Neil has over 30 years of experience growing bonsai and has been growing field grown pre-bonsai material for the past 25.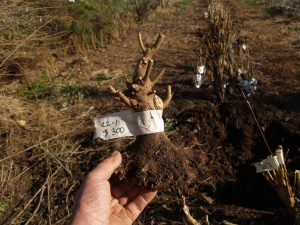 At Shibui Bonsai our emphasis is on developing trees with the best potential. We carefully rootprune at each repotting to encourage lateral rootspread as the first stage of developing bonsai with great nebari. Regular pruning in the field and in the nursery builds trees with taper and dynamic trunk movement.
Our main emphasis has been on growing and supplying traditional bonsai favourites such as Trident and Japanese maples, Chinese elms, Black pines and Shimpaku juniper but we also grow smaller numbers of other species with potential as bonsai.
More recently we have been growing small numbers of Australian native trees, many of which are proving quite adaptable to bonsai.
Some of you may have seen our trees for sale at major bonsai shows and events. We will continue to bring great stock to you when we can, but for those who just can't wait and those from areas we don't get to, Shibui Bonsai is open by appointment only. So to avoid disappointment, please contact us before making the trip. Group visits from Bonsai clubs are most welcome……
For those who are not able to get to the nursery we can pack and post trees to most eastern states of Australia.