Canberra Bonsai show was held over the weekend of October 13 and 14.
Shibui Bonsai again had a trade table this year. Sales were even more brisk than usual and we took home very few plants after the show.
Canberra Bonsai Society always put on a great show and the quality of the trees continues to improve each year. Here are a couple of the trees that took my eye.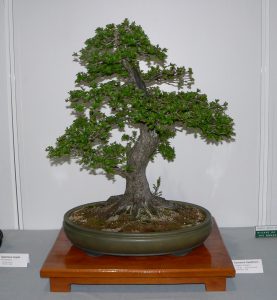 This large Hawthorn was obviously collected from somewhere but has great nebari and a good trunkline.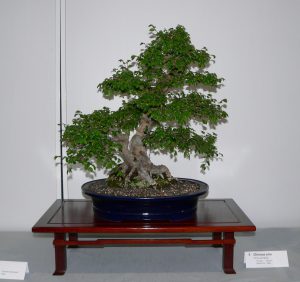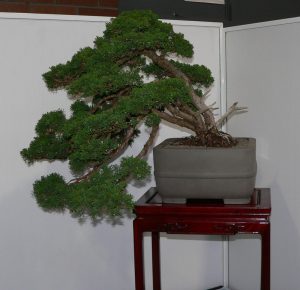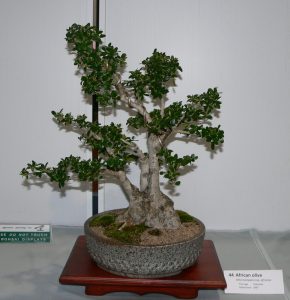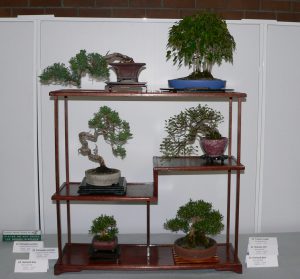 A Chinese elm with a quite unusual trunk. Lots of bends and twists down low.
Shimpaku juniper
Triple trunk collected olive.
An old Japanese Black Pine with massive trunk base made from many fused roots. This was awarded the best bonsai in the show.
An impressive group of shohin sized bonsai.
The Chinese elm – middle right – was picked as the best small bonsai. below it is a Buxus harlandii which received the same award last year.
Canberra club have a strong tradition of Australian natives as bonsai.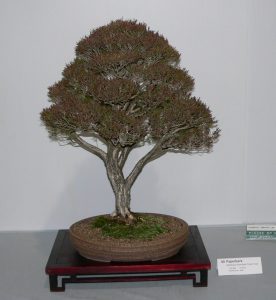 Melaleuca 'Claret Tops'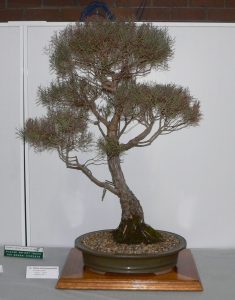 Eucalyptus nicholii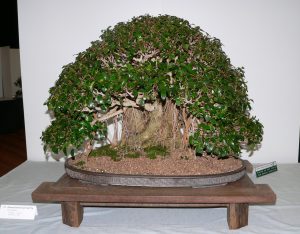 Queensland small leaf fig. This is a very large tree with loads of aerial roots. It was judged best native bonsai and also received the people's choice award.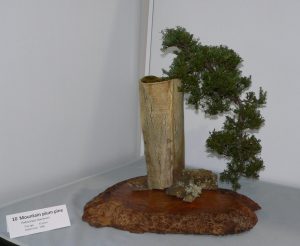 This cascade is a Mountain Plum Pine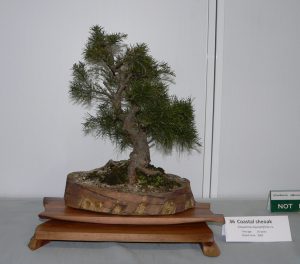 Casuarina equisetifolia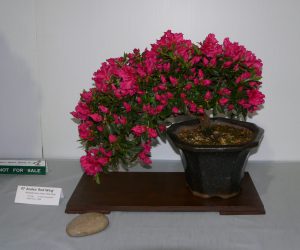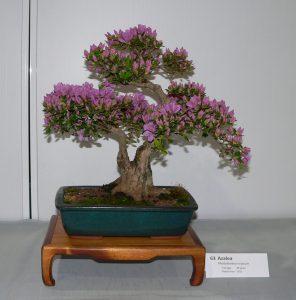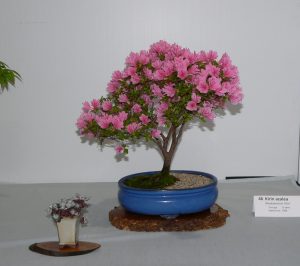 Spring is a great time for flowering bonsai and azaleas showed strongly
On the Saturday night of the show the club invites members to dinner with some bonsai entertainment. This year some of the Bonsai World team worked on an old Dot Koreshoff black pine while I started a collected Callistemon 'Little John' on its bonsai path. I didn't take photos of the pine but here's a few of the callistemon: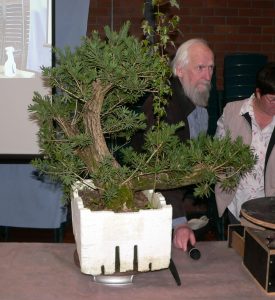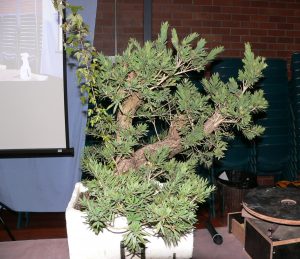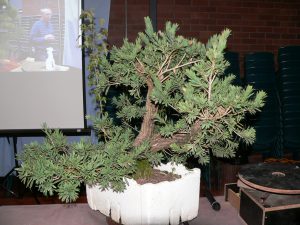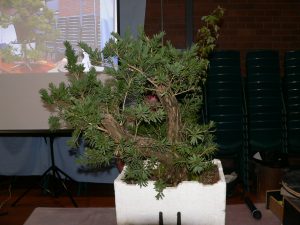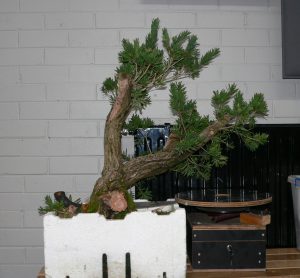 Before: the tree had 3 very strong trunks all at almost right angles. Some of the audience believed that all 3 should be retained but I thought the angles interfered with good visual flow
This callistemon was collected from a garden. The deck was to be extended over the area where this tree was growing and I received permission to remove it before work started.
and after:
The lowest trunk, which also had least movement, was removed to simplify the trunk lines and establish a windswept or water swept style tree.
Dead wood will help to disguise the large stump. Dead wood also helps add visual taper to the top of the upright trunk. Further carving and refinement was not possible at the venue but I have since done further work and begun to wire the remaining branches.
Well done to all those who made this show another great success. Shibui Bonsai looks forward to attending again next year.