Pines and junipers are quite slow to recover from transplant but this year's transplants from the Shibui Bonsai grow beds are now looking strong and healthy.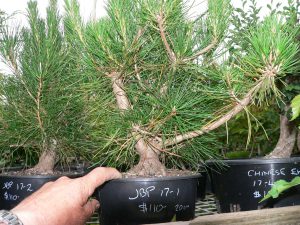 There's only 2 Japanese Black pines this year so they are not included in the catalogues.
Both these trees are in 20 cm orchid pots. That, and my fingers, should give a pretty good indication of the size of these trunks.
Both have quite thick lower trunks.
17-1 has an excellent flared base.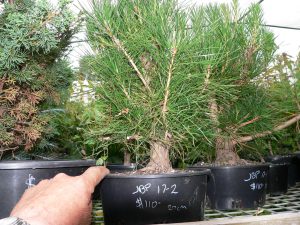 These pines $110 each + delivery costs if applicable.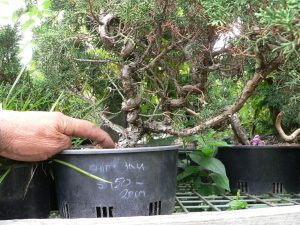 We also have a small number of field grown Juniperus chinensis 'shimpaku'. These trees usually have a strong, straight growth habit so most of the ones offered for sale lack trunk movement and interest. These ones have had trunks wired when they were very young to give lots of bends and swirls – more like the wild looking junipers available at Japanese bonsai nurseries.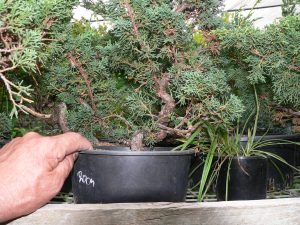 Junipers grow quite slowly so it does take quite a few years to produce trees of this size. Adding bends to the trunks and branches adds even more years to the timeframe so these junipers are a bit more expensive than equivalent sized maples or pines. If you want a juniper with character contact Shibui Bonsai.
These junipers would be great material to take to advanced workshops. Dead wood and shari on these trunks will only enhance the dynamic movement.